Diwan Singh Kalepani (Dr.)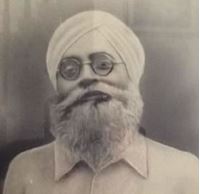 Dr. Diwan Singh Kalepani (22.05.1897-14.01.1944) a Punjabi writer and physician was born to Inder Kaur and Sunder Singh in village Galotian Khurd, Tehsil Daska, District Sialkot. He was married to Inder Kaur.
He passed middle school from Mission School and did matriculation from Khalsa High School, Sialkot in 1916. Then he did medicine course from Agra Medical Institution in 1919 and joined as a doctor in Rawalpindi. He was transferred to Lahore in 1921. He shifted to Rangoon in 1925 and then Port Blair in 1927 as a Civilian Doctor.
He had been a physician at Cellular Jail and had been helpful to the convicts for their mental tranquility. He had a very noble soul with golden heart as attitude towards convicts had been humanistic. He was arrested by Japanese army in 1943 and was tortured to death in Jail.
He wrote progressive poetry in blank verse.