Nahar Singh (Giani), Gujjarwal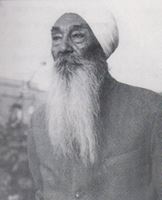 Giani Nahar Singh Gujjarwal (05.12.1892-24.10.1972) a Sikh historian was born in Gujjarwal, District Ludhiana.
He studied at Malwa Khalsa High School, Ludhiana and had the priviledge to enjoy the sangat of Bhai Randhir Singh. He also participated in freedom movement and was sent to jail in Lahore conspiracy case II. Later he continued his studies and passed Gyani examination in 1920 and marticulation in october 1923. He cleared Gyani training exam in Khalsa College, Amritsar in 1924. He cleared F.A. exam of Punjab University in 1926. He also passed B.A.
He had an interest in history spiritual writing. He served as a teacher for 20 years and also served as editor of various newspapers for 20 years. He was a religious and intellectual man with patriotic sentiments. He wrote few books on history, but credit goes to him for editing the spiritual writings of Bhai Randhir Singh and publishing those works.